I have a billing cycle of the 7th to the 6th each month. On the 12th I purchased a 15$ for 10Gb addon. On the bill it displayed partial charge of $12.50 for the addon 15$ for 10Gb. Fine, makes sense (pro-rated I assume). But then I see a charge for Unlimted SMS & MMS $15.00. Which I did not purchase, as my plan has already Unlimted SMS & MMS. I called Cust. Service, he said this is an error and it is the fee for the 15$ for 10Gb addon. WWWHHHAAATTT!!. Why would I get an incorrectly labelled addon charge for a monthly service that, according to my bill (partial charge of $12.50 for addon 15$ for 10Gb addon) I was already charged for. So basically I am asking how a $15/month addon can cost $27.50 in total?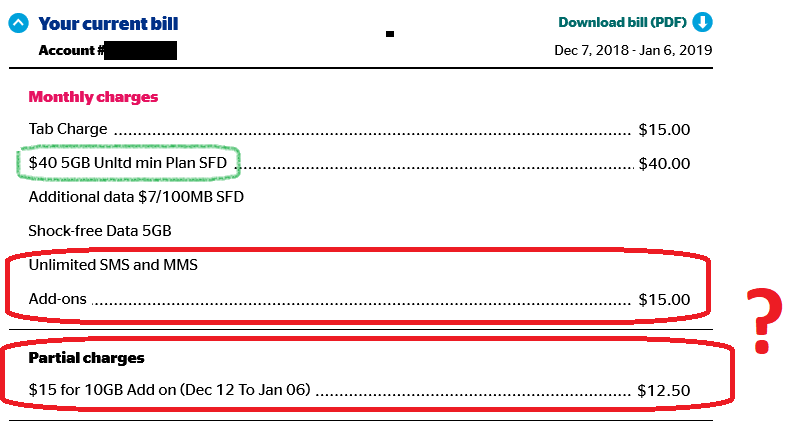 Best answer by Dinh 12 January 2019, 03:34
hi,
Always check your Pdf bill if you had doubts about any billing issue. The PDF Bill should have all the detail, the page 3 (or 4) is a good place to look for.

From the snapshot, it is likely you were charged $12.5 for previous billing period (Dec 07 - Jan06) because you added the add-on in the middle of billing cycle.

The $40+$15 (add-on)+$15 (tab) is likely for next billing cycle Jan 7 to Feb 06. = $70

I think your January pdf bill should have the detail.
View original