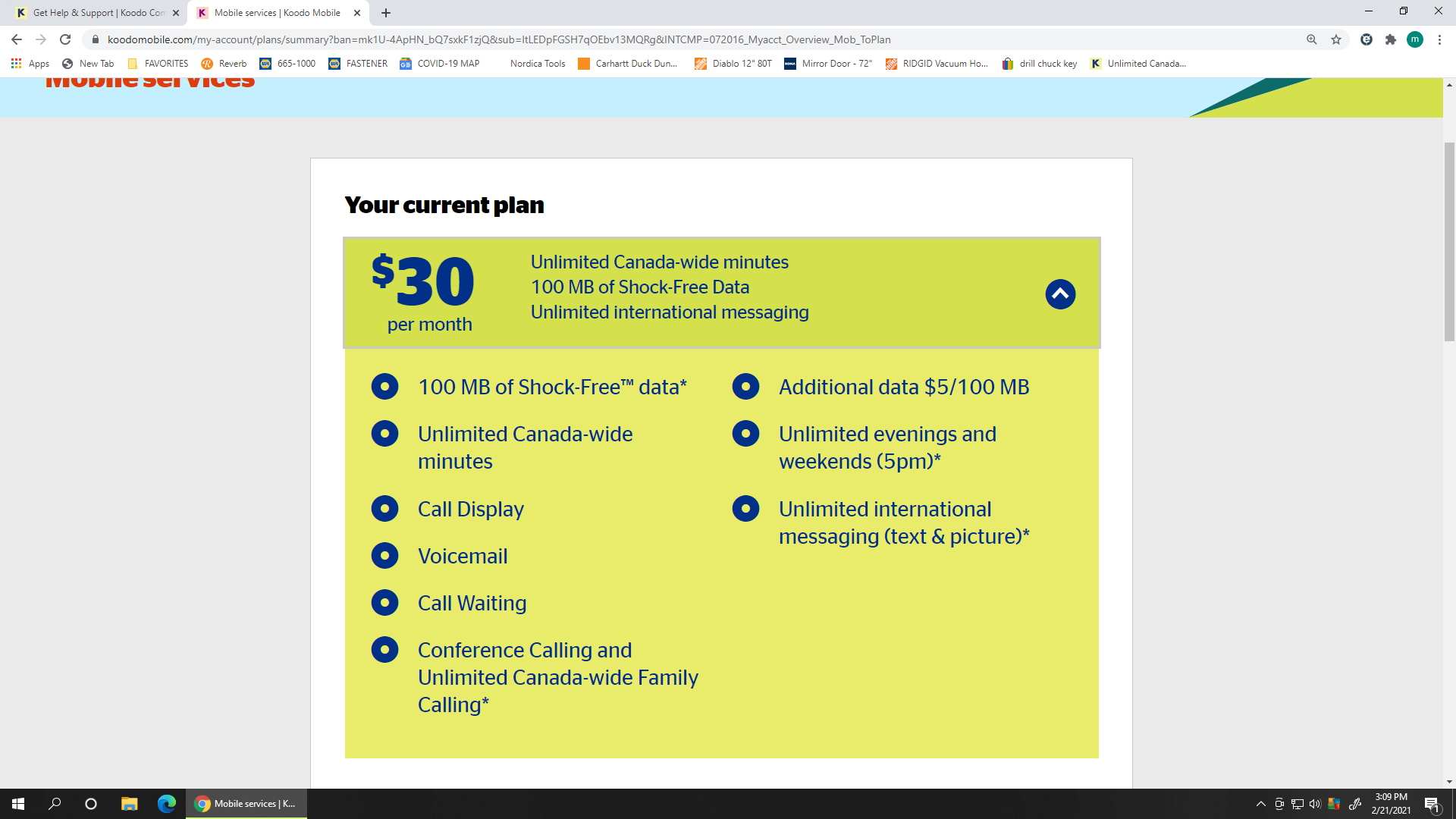 I've been a very loyal client since Oct. 2014. My 20 y.o. son has had this plan since 2017. He recently had his identity stolen and had to deal with CRA (still not done!)...was put on hold for hours (up to 6 hrs. on one occasion!!). Yes, you read that right.
Long story short, his bill came up to just under $500. I called Koodo (he's under my account), dealt with them on and off for about 4½ hrs...ended up having to deal with manager (Micheal). I asked why he was being charged, since his plan clearly says "Unlimited Canada-wide minutes"? After an awkward pause, his answer was, "Canada-wide" only refers to long distance charges - not airtime?????? Why in God's name would it not simply say that in plain English?! He ended up giving me a 50% credit after I put up quit a fuss. I have to say though that I'm seeing some holes in the validity of his answer.
1- If in fact, "Canada-wide minutes" does not refer to airtime, then why on earth was he the very 1st person to inform me of this? Should this not be common knowledge amongst every single rep? No one told me this before him.
2- When checking out different (Koodo) plan offers online, the ones that didn't say "Canada-wide"; so only "Unlimited minutes" meaning (according to manager) unlimited airtime; when you would click arrow for more details, the description would say: "Unlimited Canada-wide minutes"???? In other words, the terms are obviously interchangeable.
3- The employee at the Koodo kiosk (at the mall) couldn't understand why my son was charged...according to him, "Unlimited Canada-wide minutes" meant exactly what it looked like - Unlimited AIRTIME!! Seriously though, how would anyone NOT come up with the same conclusion?? Minutes = airtime, NO??? It obviously isn't referring to data. He even confirmed that any of the new plans that state this (Unlimited Canada-wide minutes), means exactly that also. Try searching for "Unlimited Canada-wide minutes vs. Unlimited minutes", you will find NOTHING.
What I still find confusing is that, if in fact, "Canada-wide minutes" only refers to long distance calls, then how are we to know what the actual "airtime limit" is whenever shopping for a new plan???? That info is nowhere to be found. Also, does that mean that plans that do not have "Canada-wide" in the description do not cover any long distance calls? What a fricken' mess this is!
I will end by saying, if/whenever my son would be roaming, I would immediately get a notification email informing me of the potential charges. Then I would contact him (of course) and let him know. But for some asinine reason, Koodo doesn't see the need to do the same with regards to airtime. $500 phone bill people!!! And 90% of that time (if not more) he was on hold...and this was a 1 800 CRA # to boot!
Absolute insanity.