RE: mysteries 100MBs
Dear Koodo,
My name is Sam and my Koodo mobile account # is 36851048 and have 2 numbers for my wife and myself under this account.
 I switched to Koodo from Freedom about 6 months ago. The reason I switch is when I was with Freedom, my plan had 8GB of data every month and I only use under 2 a month. Because of this wastage, I switch to Koodo together with my wife in order to lower the fixed monthly charge. The Koodo data plan now have 4 GB on each phone number and should be able to get me through without over the limit.
The first couple of months seems work out OK and I use 2 to 2.5 GB a month and then afterward it started creeping up and I think about 2 month ago, I "use up" all the 4 GB data 2 days before the next cycle started. I started monitoring my data usage and found something very unusual and interesting. There are exactly 100 MB charge periodically during the charge cycle and add up to around 1GB+ and most of those charges occurred when I was at home and using Telus wifi (about 90%).
I called Koodo 866 number to find out why and the girl in the technical department cannot explain the cause and just keep telling me to change the habit of using my phone which has no help. This month I really change the way I use my phone data by switching off the data switch for about 15 days from the first day of the cycle. By doing this, it will give me a peace in mind that I would not over the limit of plan and it worked.
On Oct 26 and 27. I switched the data switch back on and those exact 100MB data charges come back again on both days in the time that I was at home using wifi.
Today I check my last month data usage day by day and found the mysteries 100MB added up to 1.2 GB (300MB on Sept, 14) which is about 30% of what my data plan allowed without paying extra. Also, in last month some of the days I switched off the data switch and other days I hotspot onto my wife's phone to help lower the usage of my plan data usage and again I make it to the end of the cycle without buying extra data. Furthermore, I have to say I never ever download movies or playing games on my phone even under wifi environment.
Now, I don't think this is what I want or the way I want to use my phone by switching off the data for half a month to suit the plan. I actually started to shop around to see what option do I have, but in the same time, I want to see if Koodo have any explanation on the mysteries data charges and better suggestion to avoid the charges that will work for me to keep using Koodo as both me and my wife's phone plan provider.
Thankyou
Best answer by Dinh 29 October 2020, 07:19
Rounding numbers like 20MB, 100MB, 200MB in Koodo data usage isn't something uncommon. Below is a snapshot of the last 2 days data usage in my Koodo selfserve. From what I observed, it is the way Koodo data usage showed up in the usage report. It wasn't  the exact data consumed at that certain time.  I would suggest you check your data usage in your phone and see which app consumed cellular data. Phone data monitoring report would provide more detail and it could pinpoint the problem.
Also when Wifi signal was weak, some phones could switch to cellular data and that could create extra cellular data usage.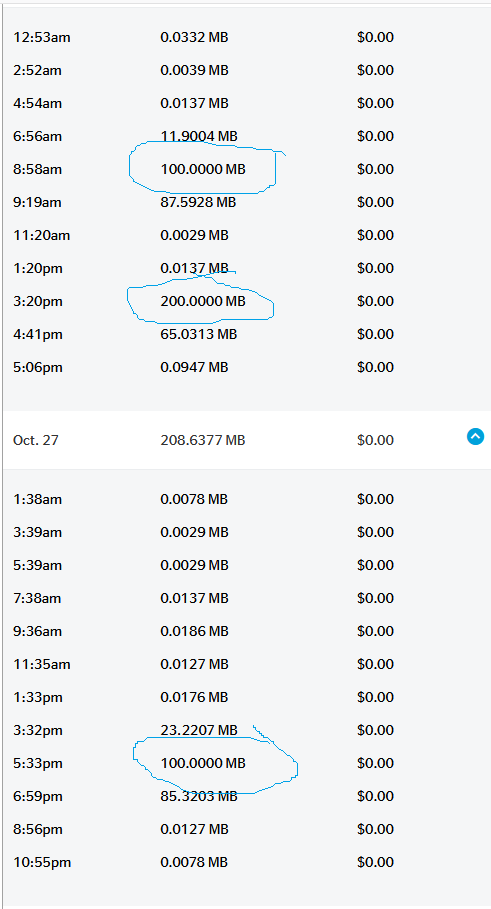 View original