Hello,
Me and my wife are on the same bill and started a $360 tab on the same date. Both tabs were supposed to be finished last month but somehow my wife's tab is still going and showing up in my bill.
Her tab's charges are not showing on the Tab History but they are showing up on my bill.
Is it possible for someone to explain what's going on?
Best answer by Mayumi 13 October 2020, 04:06
There wasn't, as far as I remember. When I compare the histories for the 2, they are in sync from Sept 18, 2018 to Jul 18, 2020.
Then my tab goes to 0 on Aug 18, 2020, but my wife's tab does not show the charge and the history stops at Jul 18, 2020. But in the bill I continue to get charged for her tab, even though it should be zero 2 bills ago.
Here are  the histories side by side. I was charged $15 for both phones in the August bill, but my wife's tab has not cleared and subsequently was charged again for my wife's tab in the September bill. And the tab is STILL not cleared!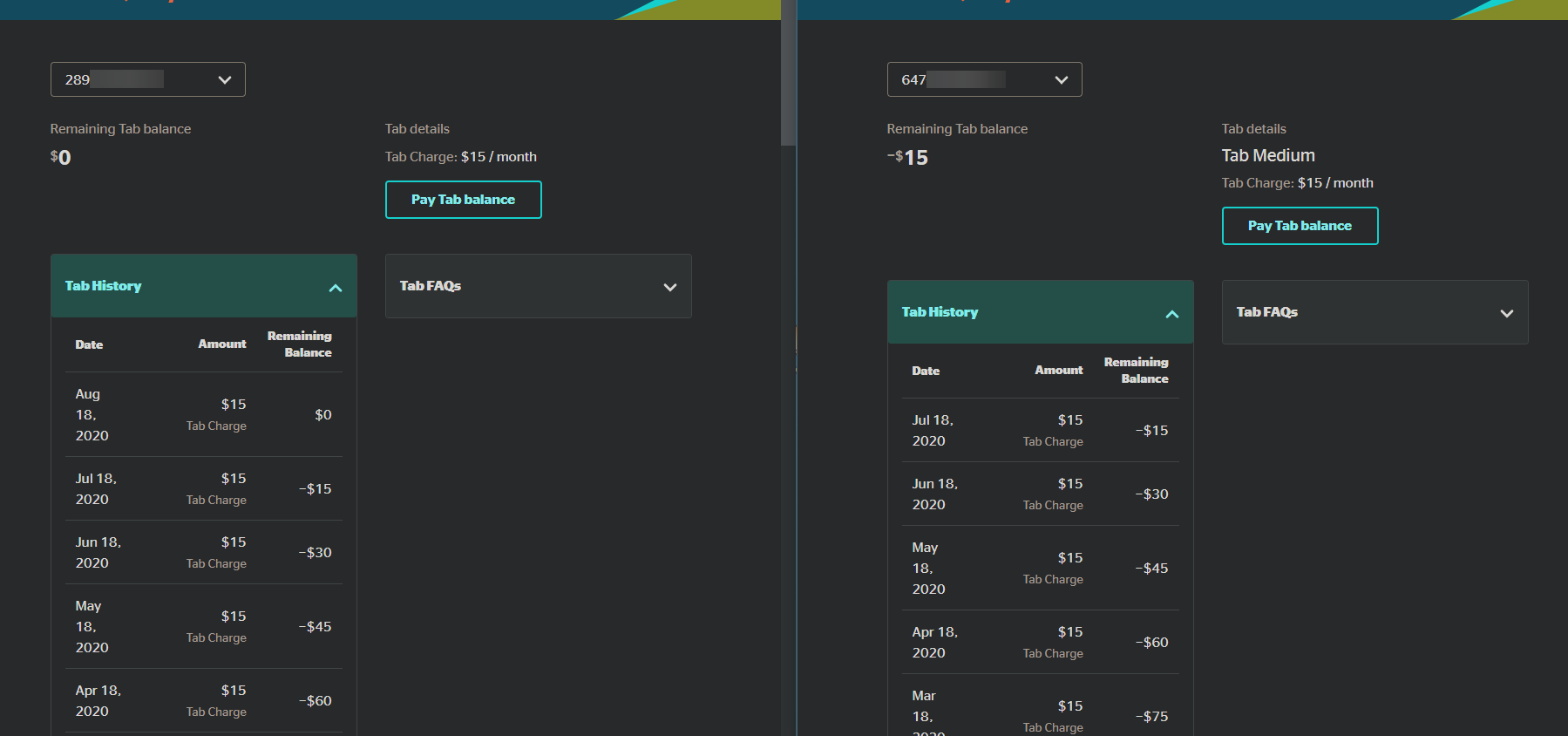 The picture on the left is showing that once you pay the tab in  August, then you don't have any tab left.  So, your September bill should have no tab charge on it.
The picture on the Right is missing information of August tab.  Their system is wonky sometimes... 
But, you and your wife are under one account and started tab at the same time, So you both finished your tab with August bill. 
You can check your PDF E-bill for September again and if there is a charge (s) for tab, then you can contact Koodo to dispute bill. They can easily fix this problem. 
You can set up call back, or send them message through FB.
View original